Ski Maintenance in INTERSPORT Crest Voland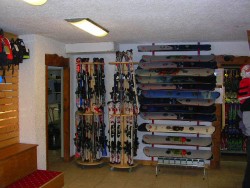 SKI MAINTENANCE : a team of professional ski experts carefully look after your rental skis. After each return, the skis are filled, sanded, sharpened and waxed. Each pair of boots is disinfected, deodorized and dried.
SKI SERVICING : for your personal skis, make sure you get the settings and the state of your bindings checked regularly by a professional.
Your skis are adjusted according to the DIN standard.
SPECIFIC REPAIRS : we are equipped with high-performance machines that service your skis and snowboards perfectly. We carry out all types of repairs: over-moulding, sanding, sharpening and hot waxing. For competition skis, skis are prepared entirely by hand.